Fish With A Pro


Guide Services with Casey Scanlon

Elite Ozark Guide Service 
Lake of the Ozarks fishing Guide Specializing in Bass and Crappie fishing
Join Casey Scanlon on a guided fishing trip on the beautiful Lake of the Ozarks or Truman Lake. Whether you just want to enjoy a day on the lake catching fish, learn new skills and fishing techniques, or you are preparing for a tournament Casey can help. He will teach you how to effectively locate, pattern and catch bass or crappie during every season and all conditions regardless of age or skill level.
Your Guide
Casey is a full time professional angler competing on the Bassmaster Elite Series, Major League Fishing Selects, Professional Anglers Association tournament trail, and Bassmaster Opens. Casey has been competing in and winning tournaments since the age of 15 and has enjoyed success on lakes all over the country and at every level of competition. Casey grew up fishing southern Missouri lakes such as Lake of the Ozarks, Stockton Lake, Truman, and Table Rock. He is a Bassmaster Open winner and Bassmaster Classic qualifier. Voted #1 angler in Missouri in 2013 and 2014 on bassrankings.com.  Casey has been a full time touring pro and guide for 6 years. Let Casey teach you how to fish like a pro!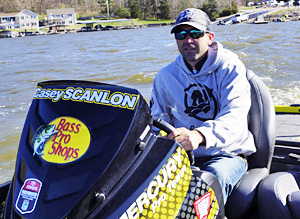 What to Expect
Enjoy a beautiful day on the water catching fish from a brand new 21′ Nitro Z-21 bass boat powered by a Mercury 250 Optimax Pro XS outboard and equipped with the latest Garmin electronics. Customers will use the best and latest rods, reels, line, and tackle provided by Casey's sponsors. Casey will show you a great day on the water while teaching you the most effective seasonal techniques for catching bass or crappie. Whether you are just out to enjoy a day on the lake catching fish or learn how to locate and pattern fish throughout the year Casey can help regardless of your age and skill level. Expect to catch plenty of fish and possibly a trophy fish from one of the best lakes in the country!  Pick up by boat or at your hotel can be arranged free of charge. Bass are catch and release only in order to protect the resource. He will clean your catch of crappie, catfish, or white bass free of charge.  Casey will provide cold drinks, ice, snacks, life jackets, fishing rods, fishing lures, bait, and gas for your trip. 
What to Bring
Casey will provide all the equipment needed for your trip. Just bring yourself, sunscreen, a Missouri fishing license, rain or cold weather gear, and your favorite rod and reel if you desire.
Lake of the Ozarks Fishing
Lake of the Ozarks is one of the best fishing lakes not only in the midwest but the entire country. The lake is over 92 miles long and has a surface area of more than 54,000 acres.  All 92 miles of the lake are home to world class bass, crappie, and catfish. There is not a bad time to fish at Lake of the Ozarks. No matter what season it is and regardless of weather there are always fish biting somewhere. Let Casey show you how to locate and catch fish at Lake of the Ozarks.
Spring- Spring fishing at the lake can be incredible. This is the time of year to catch a trophy and possibly the biggest bass of your life. The average size of fish is usually better in the spring than any other time of year. The fish will begin to stage up in early spring in preparation for the spawn. These fish will move daily and a good guide can be helpful in staying with them as they move and prepare for the spawn. Jerk baits, crank baits, soft plastics, and jigs are all very effective at times. This is the best time of year to crappie fish.
Summer- Summer fishing is fantastic at the Lake of the Ozarks. There are a tremendous amount of fish both shallow and deep at this time of year. Proper electronics can be very important to locating fish at this time. This is a great time of year to catch numbers of fish and quality. A wide variety of lures work at his time of year, Topwaters, crankbaits, jigs, plastic worms, and creature baits are all very effective. Night fishing can be phenomenal at this time. Recreational boat traffic can be heavy this time of year especially on weekends. It is important to get out early in the morning or in the evenings. Four hour trips are recommended on the weekends.
Fall- Fall is my favorite times to fish at Lake of the Ozarks.  During this time the fish become spread out and can be caught at a wide variety of depths using many techniques. The fish change daily and discovering an effective pattern is important. This is a great time to learn new techniques because the fish are doing a little bit of everything. Numbers of fish are very good in the fall and big fish are very common as well. Jigs, topwater, spinnerbaits, and crankbaits excel this time of year.
Winter- Winter fishing is usually amazing and most days you have the lake all to yourself. Winter is an excellent time to catch a big fish. The fish are feeding heavily at this time and the average size of fish is better than at any other time.  Jerkbaits, Alabama rigs, and jigs are all you need. The crappies also begin to group up and can be caught easily most days. 
Instructional Trips
Instructional trips are available on Lake of the Ozarks, Truman, Table Rock, Stockton, Pomme de Terre.
This is more than a guided fishing trip. It is a personal, on the water, lesson on how to be a better fisherman. He will cater the trip to your needs. Learn how to find bass that are staging during different conditions and different weather patterns. What time of year is hardest for you to catch fish? Casey will teach you how to catch them when you can't. Whether that is probing deep structure with a jigs and crankbaits, utilizing power fishing techniques in shallow water, finesse fishing in clear water, or learning how to use your electronics to locate structure and fish. He is willing to show you the secrets of the pros. This service is geared towards making you a better angler by showing you tournament winning techniques, seasonal fishing patterns, and effective practice strategies. Rates for instructional trips are $500 per day with only 8 hour trips available. For lakes other than Lake of the Ozarks customers are required to book a minimum of 2 days.
Rates
Lake of the Ozarks 
$475 8 hours
$400 6 hours
$300 4 hours
$75 for third person

Rates are for one or two people. There is an additional charge of $75 for a third person. 
Instructional Trips
On Table Rock, Pomme de Terre, and Stockton
Discounted rates for multiple day trips - CONTACT US FOR MORE INFO
Book Your Trip Today
Call 913-449-3176 or email me at caseyscanlon@hotmail.com and let me know what days you're interested in.
---